Sports and athletics
Handball Ice-hockey Modern Pentathlon
Swimming Table Tennis Weight-lifting

Visitors since August 24th 2014

Copyright © 2014-2022 sportmemorabilia.se
I have noticed that many people enjoyed my father's websites. To honor his memory I have made them public again. He wanted to spread knowledge, and knowledge he will spread!
Some words
Sports memorabilia is a fairly new collecting area and has become very popular. It has grown much during the last 20 years. To the sports memorabilia area you can include almost all things related to the athletic movement.
When this movement was growing during the late 19th century sportsmen also wanted it to be seen. Sports organizers created medals, badges and pins to be worn by the successful recipients.
The Olympic movement was early organized and created insignia almost from the beginning. The Nordic Games, the real forerunners to the modern Olympic Winter Games, were held in Stockholm from 1901 and also those organizers created solid medals and badges.
However, other big sporting events, for instance World and European Championships, were not held until the late 1920ies and early 1930ies, but even here the different sport federations attached great importance to sport insignia.
In the light of these facts it will be easier to understand collecting sport memorabilia.
Some words about the author
Last update by Staffan
I'm 71 and living in a village in the very south of Sweden, retired since 2002 after 36 years as an officer in the Swedish Air Force. Since the middle of 1990ies sports memorabilia is of great interest to me.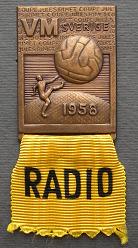 World football championships 1958

World speed skating championships 1950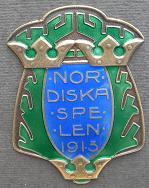 Nordic Games 1913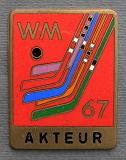 World ice-hockey championships 1967
European athletics championships 1969

World U.C.I. championships 1961